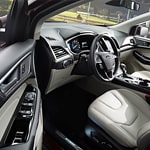 The Ford Edge remains a favorite among SUV owners who prefer a midsize vehicle that provides plenty of interior space while being easy to handle. In fact, the Edge drives more like a traditional car than an elevated SUV. The exterior and interior have been revamped to enhance the appeal.
The exterior has an athletic but elegant appearance that begins in the front with the large meshed grille and sharp lines on the hood. Sharp lines continue along the mid and lower regions of the body sides. The aerodynamic profile ends in the rear with the rooftop spoiler. Sharp, angled lines are also apparent in the rear.
With four trim levels available, new owners may choose an interior that is perfect for every day or exudes luxury. The top-of-the-line Titanium features leather-trimmed upholstery, a leather-wrapped steering wheel, and front bucket seats. An ambient lighting package sets the mood. Stop by our Oxford, MS Belk Ford Inc. facility and take a Ford Edge for a road test.